Vi er leverandør og distributør af PRITI NYC neglelak i Danmark
Læs mere nederst nede på siden.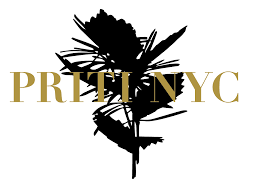 PRITI NYC er et New Yorker brand som blev grundlagt af Kim D'Amato i 2005.
Neglelakkerne er 10-free (Toulune, formaldehyde, formaldehyde resin, dbp, camphor, xylene, TPHP, parabens, gluten free, cruelty free)

PRITI NYC anvender kun naturlige farvestoffer i deres neglelakker

Alle farver i lakkerne er blevet FDA godkendt

Lakkerne er hurtig tørrende og indeholder en UV-hæmmer og er ekstremt holdbare og blanke
Certificeringer:
Vegan.ORG

Cruelty free & Vegan

The Leaping Bunny

United States Environmental Protection Agency
Awards:
Organic Beauty Talk i 2012 for bedste Eco-friendly neglelak.
~ Named The Best Polish Remover in Elle Magazine's "Green Beauty Stars".
and a winner of the allure beauty award.
Den luksuriøse neglelakfjerner er blevet infunderet med sojabønne ekstrakt der er naturligt afledt og indeholder essentielle olier af citrongræs.

Den indeholder ingen:
Ingen acetone

Neglelakfjernen er 100% bio-nedbrydelig

Den leveres i genanvendelig plastik flasker
Hertil kommer, at PRITI NYC Soy Nail Polish Remover efterlader hænder og negle, der føles fugtet og næret. Citrongræs er en naturlig anti-svampe, antiseptisk og baktericid, der forhindrer spredning af smitsomme sygdomme.

PRITI NYC neglelak er også en stolt sponser af New York & Paris Fashion Week siden 2005. Og er blevet anvendt verdenskendte designers modeshows herunder, Donna Karan, Monique Lhuillier, Izaac Mizrahi, Carlos Miele, Tommy Hilfiger, Bebe, Philosophy di Alberta Ferretti, Tuleh, Bahar Shapar, Devi Kroel, Caroline Siekaly, G-Star, Marc Bouwer, Susan Cianciolo, Thakoon, Proenza Schouler, Rachel Roy, Victoria Bartlett, Wayne, Milly, Michon Schur, Issa London, Willow, Yuna Yang, Twinkle, Poko Pano, V Del Sol, Marysia, Vitamin A, and Crystal Jin, m.fl