Vi er leverandør og distributør af schmidt's naturals deodoranter i Danmark
Læs mere nederst på siden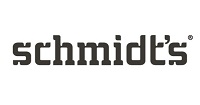 schmidt's naturals deodoranten ændre måden hvorpå du tænker deodranter, som da også er hele deres mission, at tilbyde en deodorant uden aluminium, som virker effektivt.
Leder du efter en deodorant med organisk formulering, som rent faktisk får arbejdet gjort? Dette sætter schmidt's deodoranten en helt nye standard for:
Schmidt's naturals prisbelønnede magneium deodoranter - neutralisere lugt og fugtighed.
Beskyttelse mod fugtighed
Ingen klistret eller fedtet fornemmelse
Ud over at deodoranterne er uden aluminium, er de økologiske Certificeret, glutenfri og veganske.
Certificeringer:
EcoCert

Vegan & Cruelty-free

The Leaping Bunny

PeTA / PeTA-APPROVED VEGAN

The Humane Society

Non Toxin Revolution

Essential Oil University

Clean The World
Historien om schmidt's naturals:

Starten på deodorant succes udsprang i al ydmyg i et køkken i Portland i Oregon, her bragte iværksætteren Jaime Schmidt en livslang lidenskab for innovativ kropspleje i fokus. Hun var motiveret til at fremstille produkter, der kunne gavne hendes familie og velvidende, at de naturlige deodoranter som var på markedet ikke var i overensstemmelse med forbrugernes forventninger, gjorde Jaime Schmidt det til sin mission at ændre den måde folk tænker deodorant på.

Jaime Schmidt nægtede at gå på kompromi med effektiviten af dedoranterne hun fremstille og udviklede sin helt egen formel. Det vidste det sig da også at schmidts investeringer i forskning var uvurderlig for hendes progressive formel som blev bekræftet i dens effektivt evne til at neutralisere lugt og evnene til at absorbere sved og dårlig lugt. Brugeren af hendes deodorant følte sig godt tilpas og samtidig dufte helt fantastisk.

Efterspørgsel af hendes dodoranter spredte sig da også ualmindelig huritgt. Brandet schmidt's naturals deodorant blev huritgt et eftertraktet brand i hele Nordvest USA og solgte i butikker og webshop over hele venden inden for ganske få år.

Efterhånden som virksomheden vokser er Jaime Schmidt stadig tro mod sin ydmyge begyndelse.